Dec. 02, 2021
A building's frame is its backbone, so it is important that it is both safe and reliable. Both steel and wood framing have their advantages and disadvantages, and the choice between them should take into account cost, longevity, sustainability and flexibility in the construction process.
Also known as "metal framed homes", steel framed homes tend to allow for less movement because steel frames do not twist, warp, shrink or bend, while wood frames are more ductile to their environment.
We've broken down the pros and cons of each material for framing your home to help you decide which material is right for your home building needs.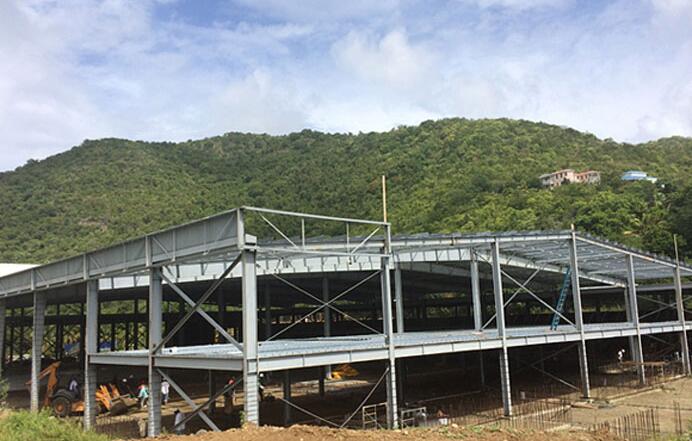 Wood Frame vs. Steel Frame Homes
Advantages of Steel Framing
Steel framing offers a strong, accurate, stable and durable framing alternative to traditional wood framing. Steel framing is available in many sizes and shapes, much more than standard wood, to create a high quality home.
Most steel construction involves extremely strong light steel. Prepared at the factory and assembled on site, steel framing can meet essentially any structural need.
1.Strength and Quality
Steel is considered more durable than wood. However, the strength and quality of a building depends heavily on how the structure is designed and built.
2.Cost
There are many different costs associated with the fabrication and installation of steel framing that may affect the price. For example, many steel frames are created and prefabricated off-site to increase efficiency and reduce waste and costs. Generally, the original cost of steel is more expensive than wood, but on a fully installed basis, you may find that the final cost of the entire frame is similar to wood.
3.Termite Protection
Steel is 100% termite proof, which essentially makes steel framing invulnerable to termites. However, this does not mean that you no longer need a termite protection system. If you use wood or timber in other areas of your home, you will still need to protect it from termites. However, in the case of steel framing, termites will not come in contact with it.
4.Impact on the environment
Steel is 100% recyclable and has one of the highest recycling rates on the planet. This is great if you are interested in reducing your impact on the environment. Steel frames also seal door frames and windows, so they can reduce the cost and environmental impact of heating and cooling your home in the long run.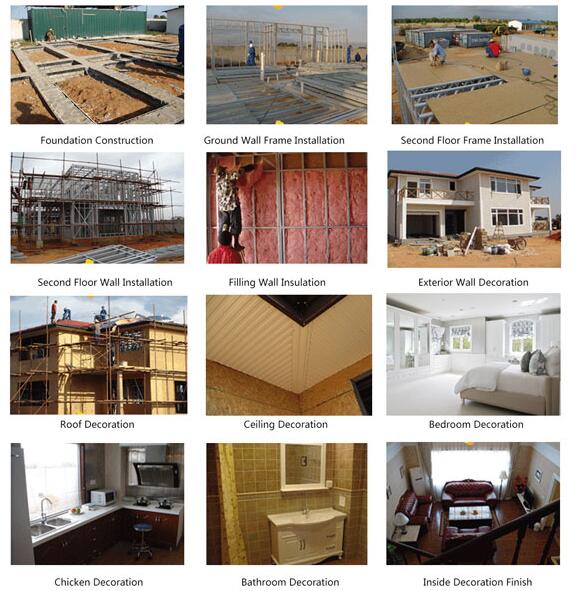 Disadvantages of Steel Framing
Despite their impressive advantages, steel frames also have several disadvantages. Consider them before installing steel frames.
1. Thermal conductivity: Steel is an excellent conductor of heat. For house construction, this puts steel at a disadvantage. This means that insulation is necessary to offset conductivity. When heat is conducted by steel, the insulating properties of steel walls are compromised. As a result, this means that the building is unable to retain energy efficiently.
2. Support components: Sheathing, timber and drywall are used to provide insulation for steel walls. This can increase the total cost and time required for construction.
3. Reduced flexibility on site: Once the model is made and taken to the construction site, changes to the design will cause delays.
Advantages of wood framing
1.Cost
Is it cheaper to build with wood or steel? Because wood is readily available and easy to procure, it is usually cheaper to build with wood compared to steel. However, since most/all construction is done on site, errors can occur, resulting in waste and increased labor costs.
2.Natural Products
Wood is one of the few natural product building materials available. It is non-toxic, does not leak chemicals, and is safe to touch. It may be a good choice for your new home build.
3.Fast build time
Wood is easy to source and framing can often be built quickly on site. This is usually a more straightforward process that includes less lifting equipment because lumber is a lightweight product. However, mistakes can be made, and we are all human, which can lengthen the process and require longer mechanics. The time frame for erection is usually very similar compared to steel framing, as steel is usually used for off-site preparation.
4.Rust Prevention
While steel is a good way to avoid termites, wood framing should also be considered as a reliable way to avoid rusting. If you are building a home in a coastal area (fortunately) or if there are water leaks, rust may eat away at your steel frame.
Disadvantages of wood framing
1. Pest infestation: If not properly treated with quality waterproof components, wood will be prone to mold and mildew. To avoid all this, excellent construction and maintenance is necessary.
2. Prone to fire: Wooden frames can fail at high temperatures. If not properly installed, the risk of fire increases significantly.
3. Poor sound insulation: One of the characteristics of wood is poor sound insulation. Sound transmission through wood is high. In order to insulate your home, you need to use an expensive material sound insulation system.
How to decide which material to use for your frame?
As with most things in life, there are both positive and negative aspects to wood and steel framing. It is especially comforting to know that when it comes to the negative effects associated with using steel or wood, none are serious enough to cause a home to collapse on itself.
When choosing between wood and steel, it is important to remember that both materials make a quality foundation for building a home. Ultimately, the choice boils down to what works best for your location and budget.
Interested in designing a home? WZHGROUP offers a variety of fully customizable homes for you to choose from, or you can design your own! Talk to the friendly team at WZHGROUP today.