Product Information
20ft Expandable Container House
- All have dark grey on the front panels.
- White kitchens with white/grey pebble type Caesar stone tops.
- Timber look vinyl floor coverings.
Simple expandable building that comes in the size of approx. 20 foot container and simply folds out to approx. 3 times in size. Great for that Vanhome, extra studio, granny flat, Man cave, weekend bush getaway or office. Comes complete with the following:
- Nearly 37 square meters assembled.
- 2 bedrooms. [ 3 beds on the 40 footer]
- Complete bathroom with shower, Vanity and toilet.
- Complete with fully functioning kitchen with stone tops.
- Comes complete with A/S electrical cable, power points and Power board.
- Double glazed windows.
- 75mm EPS Panel walls [ Fridge type panels] on all external and folding roof panels.
- Easily set up and recommended be placed on 14 piers [ 40 footer on 26 piers].
- Able to be placed on Tandem axle trailer base and featured as a Vanhome or Mobil unit. We offer the option of placing them on a registered trailer base so making them a Van home. Fully registered 4500kg capacity, 70 mm tow hitch or Pintle hook, making them fully legal to carry on the road.
- Ceiling heights, which are under the allowable heights, and structural compliance requirements would need to be met if assembled as a permanent Structure/home so therefore they cannot be submitted to Councils.
- They can be placed as storage container, as they have the container hooks and can be folded/unbolted and removed easily.
- Easily transported [ 20 footer] with tilt tray.
- Folded transport size: 5850mm [ 40: 11,700mm] x 2250mm x 2550 mm high.
- Unfolded size: 5850mm [40: 11,700mm] x 6310mm x 2550mm high
- Easy setup and can easily be done by Home handyman.
- Please note that the front deck and front tile/wood look cladding are extras.

Display of 20ft Expandable Container House in West Launceston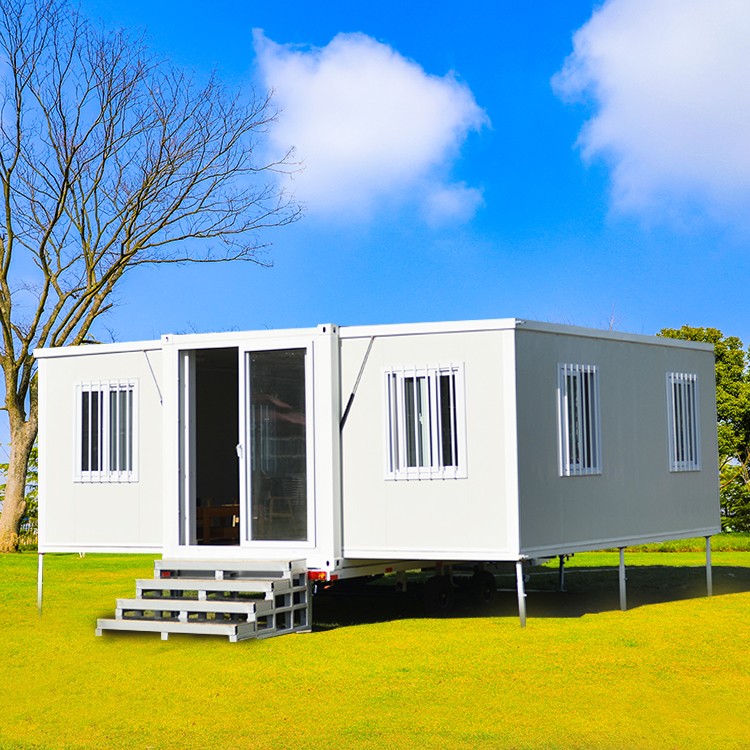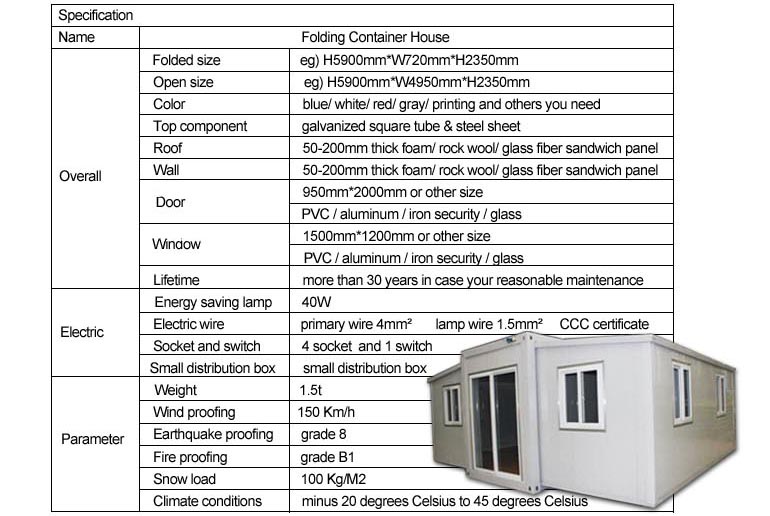 1. Easy installation
All parts of the expandable container house are prefabricated in the factory, the scene simply assembled. We provide installation drawings and installation videos, you just need to follow the instructions to the house can be opened.
2. Repeat use
Because the house is open folding assembly methods, and wall panels in the disassembly process without damage, so this house can be repeated removable container folded many times.
3. Convenient transportation
Each 20-foot small cabinet can transport three sets of folding container activities room, each 40-foot high cabinet can transport eight sets of this folded room.
4. Unique in Design
We have many experienced designers to design house according to your idea. After the house built, its looks very nice just like a great work by yourself.
5. Operational Demonstration Is Provided
The house is space saving when it is folded up into a trailer, by watching the video we provide you can action quickly and become a great architect. Experienced engineers can also be offered if needed.
6. High Quality
We have a domestic first-class production line of steel and composite Panel to ensure the expandable container house quality.
Anyone is interested in that item, please contact us feel free
Email: Robin@wzhgroup.com
Whatsapp: +8615930183507