Product Information
A shipping container house, when creatively designed and professionally assembled or installed can be an architectural masterpiece. Take for instance, the container house in these pictures.
Originally built by G A D Design, the brown coloured shipping container house which was built in 2006, was a breakthrough in shipping container house design. The second white coloured house was just recently completed in 2011 and was designed by Engineer George Runkle and Architect Francis Kirkpatrick.
This new one improved on the design of the first. In this, you can see that the top floor has a balcony and an open floor plan. This improvement greatly enhanced the look and feel of the shipping container home, making look roomier and allowing for more space.
Number of Shipping Containers Used for this Shipping Container House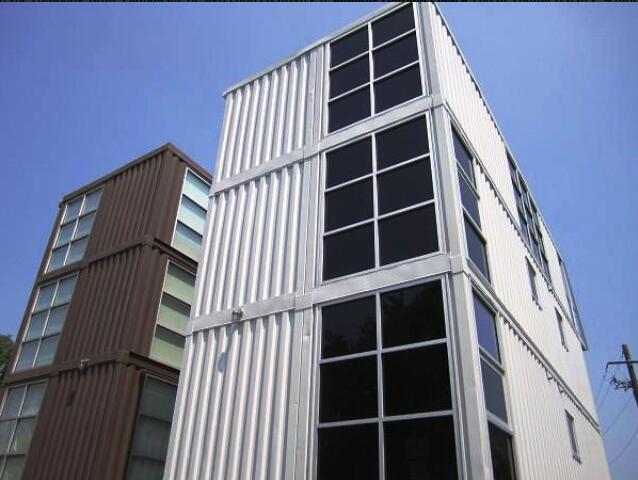 6 x 40ft Shipping Containers
Shipping Container House Engineer George Runkle

Benefits of a Shipping Container House
Many people are beginning to consider owning a shipping container house. This is due in no small part to their affordability. Depending on your design, requirements and taste, you could easily have a shipping container house for as low as $30,000 or as high as $150,000. It all depends on you.
But, price aside, shipping container houses provide cheap emergency housing. And it's fast too. You can literally have your house built from start to finish in 2-4 months. And if you don't want to use it as your main home, you could always use it as a getaway or retreat cabin, tool shed, and hideaway.
A shipping container home can also be creatively designed and built in such a manner that it stands out. In fact, designed properly, it can look exquisite and expensive. And when furnished tastefully, your guests may actually not realize that they are in a shipping container house until you tell them. Take a look at our shipping container homes images to see what we are talking about.
On top of all that, with the right shipping container floor plans and images it is quite easy to build your own.
Investment: Information to come
Time to build: Depending on the company, professionalism, designs and creativity, a shipping container house can be completed in 2-4 months.
For more information about building an entire house or granny flat from containers go to our website
For shipping container floor plans check with us