Apr. 30, 2021
As a Light Steel Frame Scenic House Suppliers, share with you.

One of the main advantages of the light steel frame is its versatility and the range of building types that can be used.
The application of light steel frames ranges from low-rise houses to multi-story, multi-purpose development, including paneled structural frames, external infill wall systems and fully completed off-site modular buildings.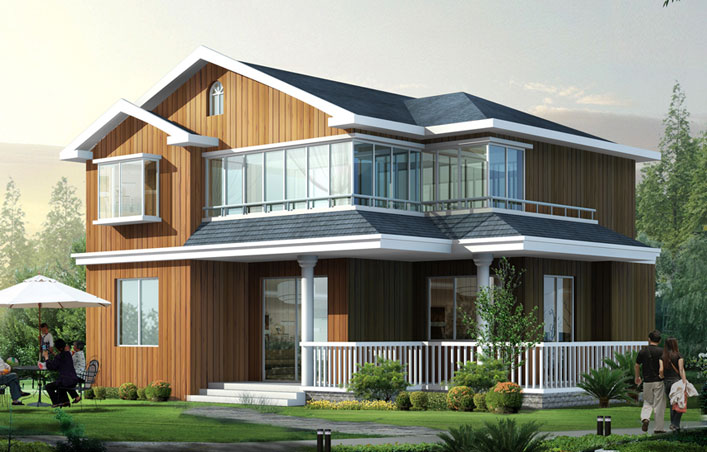 Light Steel Scenic House
In addition to a wide range of applications, there are also the benefits of modern construction methods: fast construction, high quality and performance, safety and cost-effectiveness. The main areas of light steel frames are residential buildings and mixed-use buildings with four to eight floors, usually including commercial spaces and lower-level parking lots. In these cases, the lightweight nature of the building system is essential to minimize the load on the supporting structure.
Construction form
The light steel frame includes galvanized cold-formed C-sections with a depth of 70mm to 100mm in the wall panel, and C-sections or lattice joists with a depth of 150mm to 300mm in the floor. It can reach a span of 6m, which can eliminate the internal load-bearing wall, so the internal space planning can be flexibly carried out.
Prefabricated wall panels are usually floor-high (i.e. 2.7m to 3.2m) and can be up to 8m long, depending on transportation and hoisting.
A house can be built with a minimum of 12 wall panels, and each truck can deliver up to 4 houses or large apartments. The floor can be installed in the form of a prefabricated floor box or a separate joist. In some areas, you can choose to use composite floor slabs supported by light steel walls. In this case, the floor slab usually uses a special-shaped steel floor with cast-in-place concrete to a depth of 150mm to 180mm, and the maximum span is 5.5m when temporarily supported during construction. Not only is its own weight half that of a concrete slab, but it is also lighter and can be laid with air ducts hanging from the floor.
City Development
The benefits of off-site manufacturing of special light steel frame, and come to the fore in urban residential projects, often involving a mixture of row houses and larger apartment buildings. A packaged construction system in which all structural components are designed, delivered and installed by a single supplier. The supplier prepares an integrated BIM model that is linked to the architect's model and can be used and added by the main contractor and the customer. Minimize delivery and storage space in crowded urban areas. This is achieved by "delivering in time" to the site. The panel is color coded or marked for easy identification. Minimize the load on the foundation and any supporting structure, as well as the load during construction on the tunnel or brownfield site or roof extension area. A multifunctional building system that can be efficiently used in housing and residential buildings up to 10 floors.
Good sustainability rating based on a series of environmental standards. The light steel frame can be designed with a low U value and scored as A+ or A under the BRE Green Guide. All steel components can be recycled and can be easily expanded in the future.
Mixed use development
Mixed-use developments usually include lower-level commercial or retail spaces and higher-level residential units. A good example is the construction of a three- or four-story house on a retail space. For planning reasons or to maximize land use benefits, a mixed nature of the project may be required.
Our company also has Light Steel Scenic House on sale, welcome to contact us.